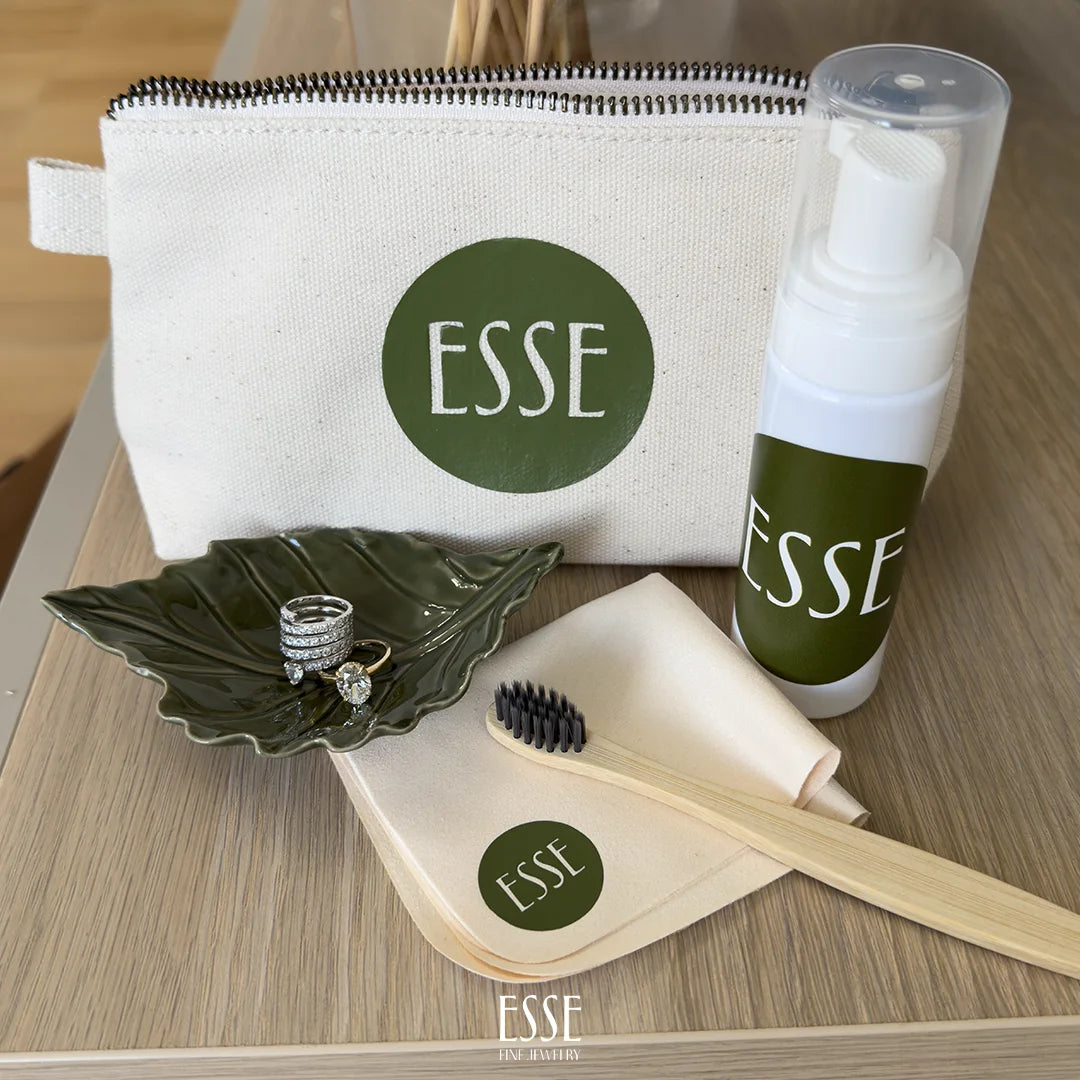 ESSE Jewelry Cleaning Kit
Keep your jewels clean! Clean diamonds & shiny gold make such a big difference to the way your jewelry sparkles. Our kit includes the following:
(1) 2.5fl oz. (75 ml) ESSE Fine Jewelry Cleaner 
(1) Small Cleaning Brush 
(1) Jewelry Cleaning Cloth
(1) Jewelry Dish
Directions: 
Cleaning your jewelry using ESSE Fine's Jewelry cleaning kit is quick and easy. Follow these instructions for sparkling results:
Prepare your workspace: Find a clean, well-lit area to work in. Lay down a soft cloth or towel to protect your jewelry from scratching.

Gather your supplies: Ensure you have the ESSE Fine Jewelry cleanser, a small brush, and the microfiber cloth from the kit.

Assess your jewelry: Before starting, check your jewelry for any loose stones or damage. If you notice any issues, it's best to consult a professional jeweler before cleaning.

Apply the cleanser: Shake the bottle of ESSE Fine Jewelry cleanser well to mix the solution. Pump the foam onto the brush or directly onto the jewelry piece you're cleaning.

Gently scrub: Use the small brush to gently scrub the jewelry, paying attention to hard-to-reach areas and intricate designs. Be cautious not to apply too much pressure to delicate pieces.

Rinse thoroughly: Once you've finished scrubbing, rinse the jewelry under lukewarm water to remove any residual cleanser. Be sure to avoid hot water, as it can damage certain gemstones.

Dry with care: After rinsing, pat the jewelry dry with the provided microfiber cloth. Avoid using tissues or paper towels, as they can leave lint or scratches.

Polish and shine: Lastly, use the microfiber cloth to polish your jewelry, bringing out its natural sparkle. Gently buff the surface until you achieve the desired shine.
Remember to store your cleaned jewelry properly to prevent tarnishing or scratching. ESSE Fine's Jewelry cleaning kit is designed to effectively clean a variety of jewelry types, including gold, diamonds and gemstones. Enjoy the renewed beauty of your jewelry with this simple cleaning process!
• (1) 2.5fl oz. (75 ml) ESSE Fine Jewelry Cleaner
• (1) Small Cleaning Brush
• (1) Jewelry Cleaning Cloth
• (1) Jewelry Dish
All of our pieces are made to order and will be shipped in 2-3 weeks via secure tracked post. Products specified as "ready to ship" are in-stock.
All purchases are final. We do not accept any refunds or exchanges.
ESSE Fine Jewelry
ESSE was created by and for people who enjoy luxurious and impactful lab grown diamond jewelry. As a pioneer of change and innovation, ESSE combines a love for design and quality with ethical sustainability. 
Shop ALL PIECES